July Newsletter 2023
By Cognito . On Wednesday, August 9, 2023
Greetings dear readers,
Welcome to the July edition of our Voice Newsletter, where we embark on a journey of compassion and empowerment, celebrating the incredible impact of our Voice grantee partners in Nigeria. This month, we delve into the latest updates from transformative initiatives across various communities, showcasing the remarkable efforts in promoting gender equality, sustainable livelihoods, and a safer campus environment.
In this edition, we are deeply moved by the dedication of our partners, such as the Association of Female Inmates and Returned Citizens (FIRC), who are empowering female inmates in Nigerian correctional facilities through the Reusable Pads Initiative. We also stand with the Mother and Marginalised Advocacy Centre (MAMA Centre) as they strive for the completion of abandoned livelihood projects, empowering women in Udi Local Government Area of Enugu state.
Furthermore, we are inspired by the Gender Mobile Initiative's proactive stand against sexual harassment on campus, equipping female student leaders to create a safer environment through the CampusPal App. Lastly, we join hands with the Dewdrop Foundation in celebrating the cherished contributions of our elderly on World Day for Grandparents and the Elderly, fostering a message of dignity and well-being during graceful ageing.
Amidst these stories of hope and transformation, we reaffirm our commitment to fostering empathy and collective action, empowering every rightsholder to shape a brighter tomorrow. May this edition spark a sense of unity and purpose as we continue our shared journey toward a more equitable and compassionate society.
FIRC Reusable Pads Initiative on a Mission to Transform Lives in Nigerian Correctional Centers:
In a truly heartwarming endeavor to promote empowerment and position the crucial matter of female hygiene as a front-burner issue in Nigerian correctional facilities, Rev. Fr. Jude Isiguzo, the indefatigable Executive Director of CAPIO, recently paid a visit to the Nigerian Correctional Service Female Custodial Centre in Kirikiri, Lagos state. His thoughtful presence aimed to oversee the ongoing Female Inmates Reusable Pads training, a responsive project carried out by the Association of Female Inmates and Returned Citizens (FIRC). This groundbreaking initiative strives to empower female inmates by teaching them to produce reusable sanitary pads for their use as well as its potential for economic empowerment.
Reusable sanitary pads produced by female inmates.
Rev. Fr. Jude Isiguzo on a supervisory visit to Female Custodial Centre Kirikiri.
Thanks to the invaluable support from Voice, these dedicated inmates have made remarkable progress and have produced a substantial number of these pads. Not only does this transformative program promise to enhance the well-being of female inmates, but it also fosters their self-reliance during their time in incarceration. The impact reaches beyond the immediate improvement in hygiene; it is a true testament to the potential for positive change in the lives of the incarcerated.
Through the FIRC program, these women are gaining not only practical skills but also a renewed sense of dignity, enabling them to take charge of their own health and future while serving their sentences. The initiative is creating a supportive environment where these women can learn and grow, reminding them that their past does not define their worth and that they have the capacity to shape a brighter tomorrow.
Please, see more updates here.
Udi-Rightsholders Seek Completion of Abandoned Livelihood Projects for Women's Empowerment:
The Mother And Marginalised Advocacy Centre (MAMA Centre), with support from Voice, recently organized a one-day Rightsholders-Executive-Legislative-Media Accountability Dialogue to address the issue of abandoned livelihood road projects in Udi Local Government Area of Enugu state. The project aims to empower women/rightsholders in the region and demand accountability from the government for the completion of these crucial projects. Udi women, who play a significant role in agricultural productivity, are facing challenges due to inaccessible roads, hindering their ability to sell their farm products and earn sustainable incomes. The dialogue saw influential figures from the executive, legislative, and media spheres pledging their support to address the concerns raised by the rightsholders and ensure the implementation of livelihood projects in the area.
Rightsholders in Udi LGA of Enugu State during an accountability dialogue meeting with stakeholders.
A Gender and Human Right Expert, Ms. Okereke Jessica Amauche, emphasized the vital role of women in rural economies and food production in developing countries. She highlighted the urgent need to improve access to commercial markets through accessible roads, which would enhance agricultural productivity, empower women, and alleviate poverty. The government's commitment to rural development and agricultural investment was acknowledged by Amauche, with promises from the Enugu state Governor, Dr. Peter Mbah in his manifesto to prioritize agro-allied industrialization and create opportunities for rural women. The event showcased the determination of Udi women/rightsholders to secure their economic independence and contribute significantly to their communities development. With the support of key stakeholders, the dialogue aims to ensure sustainable empowerment and positive change for Udi women in the pursuit of a better future for themselves and their families.
Please, see more updates here.
Empowering Campus Voices: Female students take a stand against Sexual Harassment Empowering Campus Voices: Female students take a stand against Sexual Harassment:
In a proactive effort to combat sexual harassment on campuses and empower female student leaders, Gender Mobile Initiative organized an insightful training session on the 11th of July, for Campus Ambassadors at the University of Abuja. With support from Voice, the initiative aimed to equip rightsholders with essential skills to address harassment, offer psychosocial support to survivors and foster collective action among students. A significant highlight at the training event was where participants shared their experiences in assisting survivors, emphasizing the importance of empathy and understanding. To further combat sexual gender-based violence (SGBV), the organisation launched the CampusPal App, providing a safe platform for reporting incidents of harassment anonymously.
Gender Mobile representative and rightsholder during the campus tour at the University of Abuja.
The Gender Mobile Initiative's training session represents a vital step in creating a safer campus environment. By nurturing female student leaders and amplifying their voices, the initiative aims to build a community of proactive bystanders who actively work to prevent and respond to sexual harassment. Through their commitment to fostering empathy and solidarity, the initiative sets an example for other organizations and institutions to follow, advocating for a campus culture that refuses to tolerate any form of harassment.
Group photo showing Gender Mobile and Voice representative with Female campus ambassadors at the University of Abuja.
DDF elevates Women's Voices to achieve Sustainable Change:
In a groundbreaking second Women's Voice Roundtable Meeting organized by the Dewdrop Foundation with support from Voice Nigeria, women leaders and the Women Cooperative Group in Umuode community came together to adopt guidelines for their newly established cooperative society aimed at economic empowerment and sustainability. Additionally, they established a secure cooperative bank account to safeguard funds and establish ground rules for participation such as registration and monthly fees to be paid by members. The women also spoke against Gender-Based Violence (GBV). By encouraging each other to embrace good behavior and unity, they are creating a safer and more supportive environment for everyone. The meeting's success serves as a testament to the power of empathy and collective action in promoting gender equality and community growth.
Rightsholders in Umuode community during a round table meeting organized by DDF.
Dewdrop Foundation Celebrates World Day for Grandparents and the Elderly:
In a heartwarming celebration of the World Day for Grandparents and the Elderly, the Dewdrop Foundation (DDF), members of St. Rita's Catholic Church Umuode Community, and cherished members of the community came together to engage with members of the Seenagers association; a safe space to advocate for the prevention of elder violence and abuse in communities. The event was an empathetic display of appreciation and respect for the elderly, recognizing their invaluable contributions to society.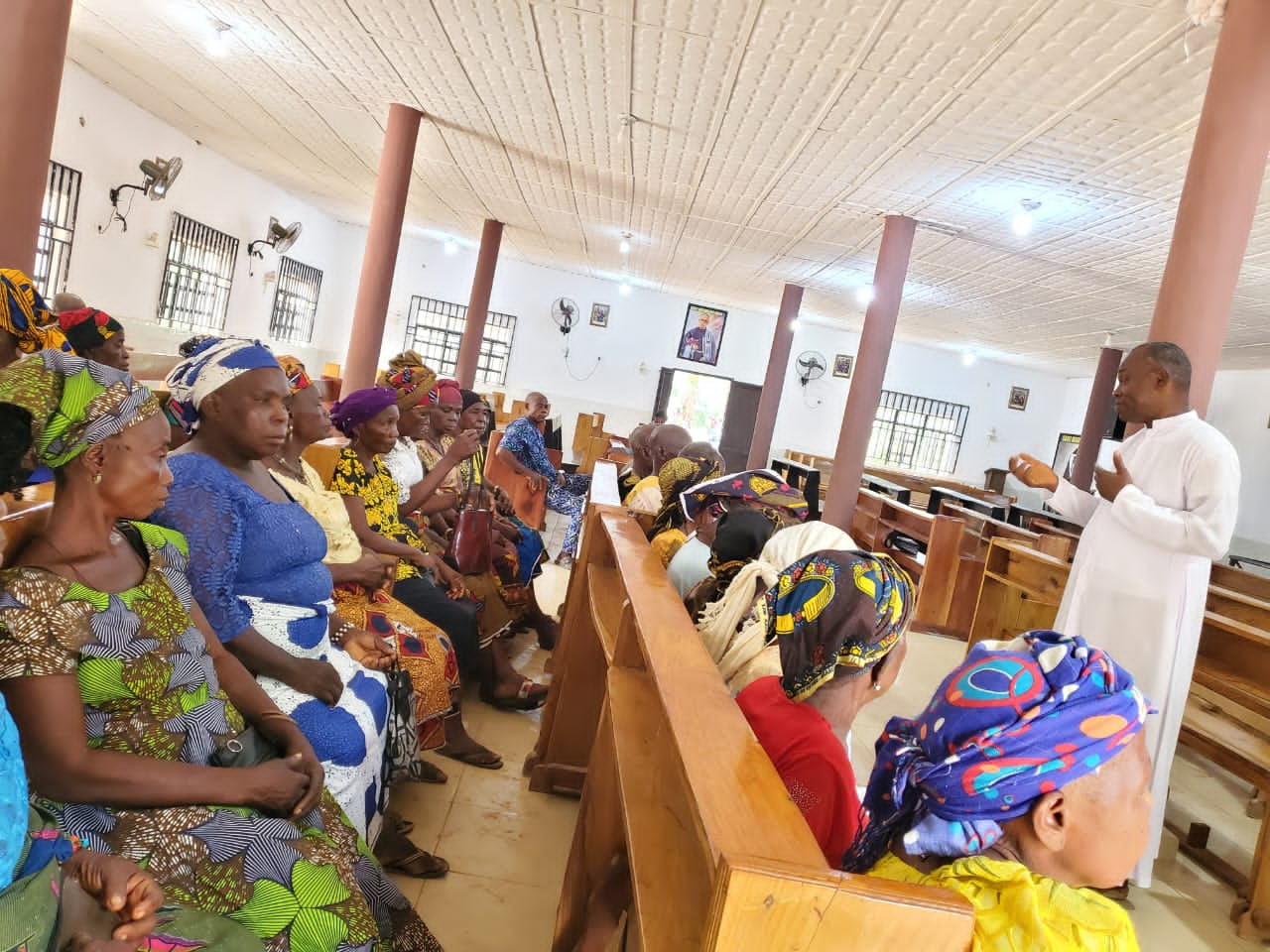 Rightholders of St. Rita's Catholic Church, Umuode Community during world day for grandparents and the elderly.
In a heartwarming celebration of the World Day for Grandparents and the Elderly, the Dewdrop Foundation (DDF), members of St. Rita's Catholic Church Umuode Community, and cherished members of the community came together to engage with members of the Seenagers association; a safe space to advocate for the prevention of elder violence and abuse in communities. The event was an empathetic display of appreciation and respect for the elderly, recognizing their invaluable contributions to society.
Democracy Convening 2023: Empowering Nigerian Girls and Youths for an Inclusive Democracy:
The Democracy Convening 2023, held from 26th to 28th July, was a three-day transformative event that united youth-led organizations, partners, civil society organizations, and duty-bearers in a collaborative effort to address issues of inclusion and mainstreaming of youths (including persons with disabilities and both genders) in governance. The theme was "Girls and Youth Takeover, Democracy for All," and the program aimed to empower youths through advocacy and drive transformational change in society, ensuring their active participation in governance at all levels.
The journey towards the convening began four months ago, focusing on facilitating extensive deliberations among young people to reach a consensus. The event saw the active support of Voice Nigeria, and the Voice Social Justice community of practice, all emphasizing inclusivity and the pursuit of impactful social change.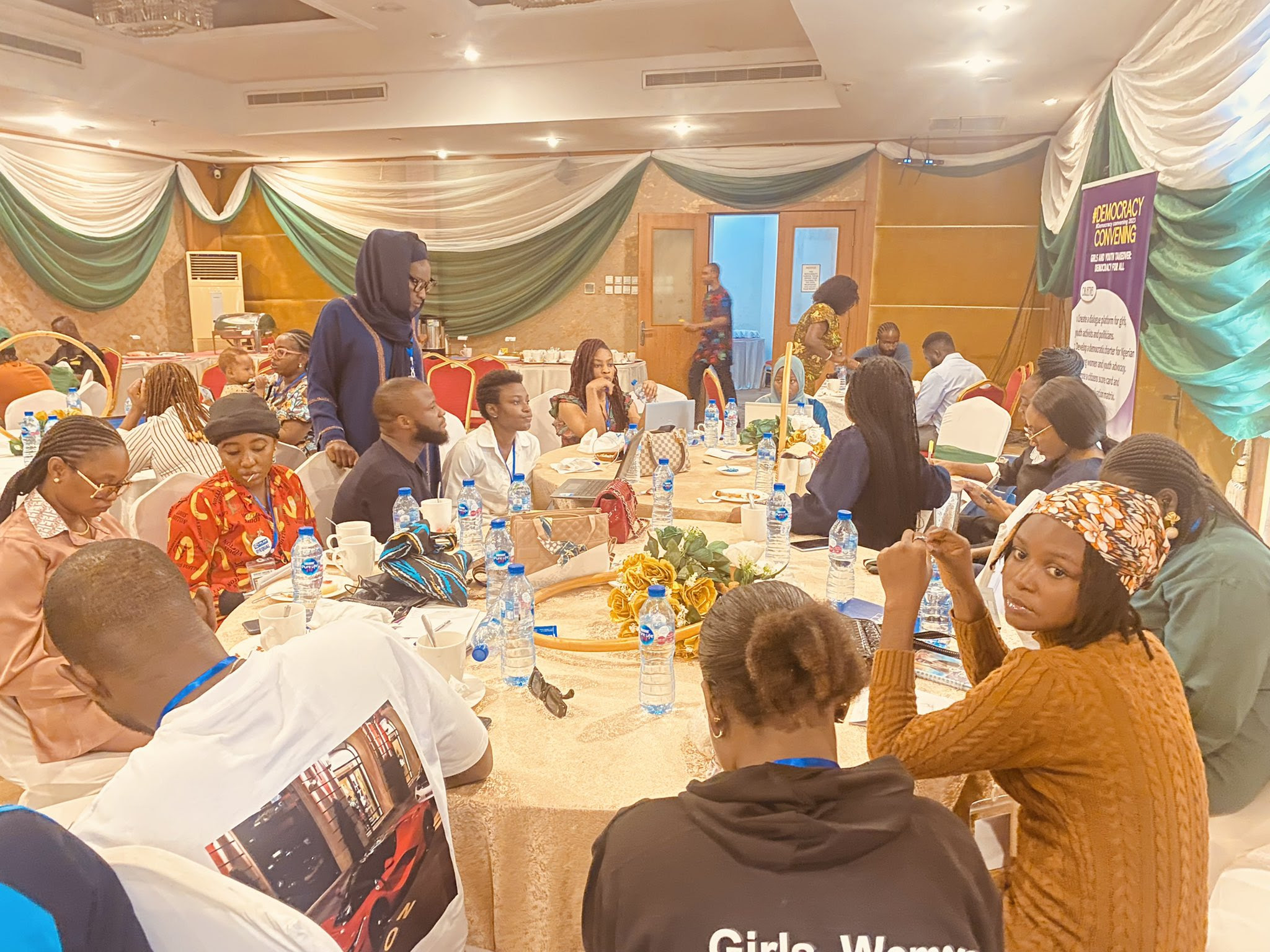 Photos of participants during the democracy convening workshop 2023.
Democracy Convening commenced with Mr. Jonathan Abakpa, the Advocacy and Youth programme officer, Plan International delivering a welcoming speech, highlighting the significance of the initiative as a youth-driven endeavor. The core objective was to foster extensive dialogue among young people to formulate a robust charter of demand. Mr. Jaiye Gaskiya, the convener of Operation Take Back Nigeria, delivered a thought-provoking keynote address, shedding light on democracy, gender equality, and inclusion.
Distinguished organizations, including Friedrich Ebert Stiftung (FES), Amnesty International, Women in Politics Forum, Action Aid, Girls Get Equal, Activista, and Oxfam, presented goodwill messages, demonstrating the collaborative spirit in championing the cause. A panel session featuring young parliamentarians explored creating an enabling environment for youths in democracy, focusing on nurturing opportunities for aspiring young politicians.
The second day saw the breakout of participants into groups to share unique experiences and perspectives, fostering interactive exchanges. Committee breakout sessions followed, addressing essential topics like digital and internet rights, Sexual and Reproductive Health and Rights (SRHR), education, girls and women's participation in politics, and economic empowerment. Each committee worked collaboratively to draft comprehensive recommendations aimed at envisioning a better future for the Nigerian youth.
Day three commenced with participants sharing experiences and engaging in interactive discussions. The committee breakout sessions were reviewed to further develop recommendations. An exciting addition was the unveiling of the accountability dashboard app, aimed at real-time collation and tracking of demands from Nigerian citizens. Quarterly reports derived from the app will serve as advocacy tools for policymakers, ensuring alignment with the genuine needs and aspirations of the young generation.
The Democracy Convening concluded with a dinner, harmonizing the charter of demand developed by the committees for presentation to the parliament. The event was a significant milestone in empowering youth and promoting inclusivity in governance, marking the beginning of a sustained four-year engagement to bring about lasting and sustainable change in Nigeria's democracy.
The Democracy Convening 2023 was a powerful platform that provided young people with a voice and paved the way for an all-inclusive representation in governance. Through collaboration, interactive discussions, and advocacy efforts, the event heralded a promising future where the youth are active participants in shaping the destiny of their nation.
Thank you for taking the time to read this edition of the newsletter. We hope you found it informative and engaging. If you have any questions or comments, please don't hesitate to reach out.
Finally, we urge you to stay curious, stay connected, and as always, stay awesome!

Until next time,
Cognito & NINE Team
(Linking and Learning Facilitator)
Thank you for subscribing to our newsletter.
Kindly watch out for updates on the Voice Naija Platform (www.voicenaija.org)
Don't forget to follow @voiceglobal @oxfam_in_nigeria @wearecognito @infonine and also all the grantees on the Voice program, on social media.
If you enjoyed this edition, kindly share it on all your social media platforms.
Subscribe to our Newsletter
Join our newsletter and get news in your inbox every week! We hate spam too, so no worries about this.